American Metalcraft, was founded in 1986. AMI has fabricated engineered metal products and we are dedicated to meeting your design needs with the best products possible including but not limited to:
Aluminum and Steel
Architectural Products
Brake Metal
Floorstands
Column Covers
Custom Products
Custom Projects
OEM Parts
Panel Insulation
Panel Gaskets
Sealants
Small Parts
Sunshades
Stiffeners
Value Added Assemblies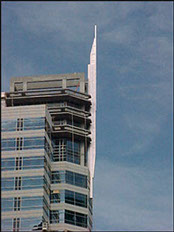 We offer a fabrication/finishing option for all of our products if your project requires fluropolymer or powder coat paint finishes. Since we are "one stop shopping" and are housed in the same building as our paint-line, we can help save on freight costs between two such facilities in different locations. For more information on our paint line, visit the
Finishing Dynamics
website.